Zambezi Adventures
Great ideas for a Bachelors Weekend or a Dads and Lads getaway.
Multi Day Rafting Adventures
Overnight and multi day Zambezi adventures are a great way to bond and have fun. Combine the best white river in the world with camping under the African stars.
2 day one night rafting trip itinerary

Day 1. The day is the standard white water rafting full day trip which combines a morning of the most electrifying grade 5 rapids on the planet with a more sedate afternoon run before settling down on a sandy beach for a nights camping in the Batoka Gorge.
Guests are supplied with food, drinks and tents. (guests should bring their own sleeping bags which will be transported for you.)

Day 2. The final leg of the rafting adventure takes you through some lovely rapids en route to Moemba Falls, where you will hall up the 750 ft gorge and take the rough road back to Livingstone and arrive back at around 5.30 pm in time for a sundowner at the Waterfront bar!

Guests need to be in Livingstone the night before the rafting as the day starts early. (before any flights into Livingstone arrive) and as the day only ends just before dark we recommend that guests overnight in Livingstone again. See our 3 night Zambezi Adventure package which includes pre and post accommodation at The Waterfront as well as a Zambezi Sunset cruise.
2 Day/1 Night Trip at a glance
Operates between August and New Year Rapids:
#1 through to Moemba Falls

Pick up time:
Between 8am & 8.30am depending on where you are staying
Drop off time:
Approx. 5.30pm on day 2
Minimum number to depart:
4 people Maximum number 16 people
Minimum age for this trip:
15 years

Includes:
All transfers, guides, safety equipment, camping gear, meals and drinks

Not included:
Sleeping bags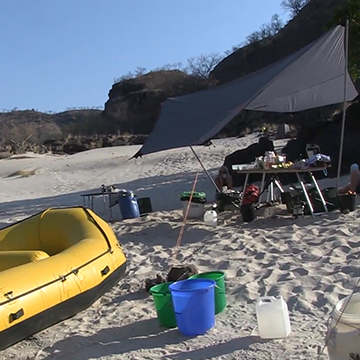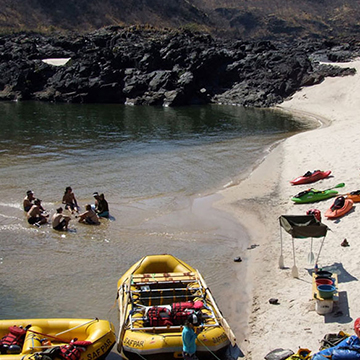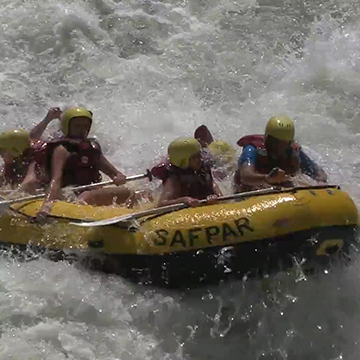 Overnight Zambezi Canoe Trip
An easy paced adventure for those who want to get away from the world see wildlife, birds
and chill out under the African sky.
Overnight Zambezi canoeing trip itinerary

Day 1:
The day starts at The Victoria Falls Waterfront and guests a journey upstream to begin their adventure. A full day canoeing enjoying the changing landscape which varies from wide open spaces to narrow meandering tree lined channels. Along the way you may encounter hippo, crocodile, elephant, waterbuck, bush buck, Cape Clawless Otter and an amazing array of birdlife including some endemic species like the African Foot.

In the late afternoon camp is set up at a permanent campsite on the banks of the Zambezi River. Guests are encouraged to get involved in setting up camp. All camping equipment is delivered to the camp site by vehicle. All meals are freshly prepared by the guides, local beers and local spirits are included.

Day 2:
After breakfast guests will be transported back to Livingstone by road.
Overnight canoeing trip at a glance.
Operates all year Upper Zambezi River
A full safety briefing is given before the safari commences and paddle training is given on dry land and then perfected on the river.

The canoe guide is always accompanied by a trainee/paddler, a comprehensive first aid kit and communications equipment is always carried.

Minimum number to depart:
4 people
Minimum age for this trip:
12 years
Includes:
All transfers, guides, two man inflatable canoes, safety equipment, camping gear, meals and drinks

Not included:
Sleeping bags